In our wedding DJ Emcee package, we will be on hand for you right from the get-go. As Emcee and Master of ceremonies, providing music during your wedding breakfast, making introductions, coordinating with family and friends and helping the day run smoothly.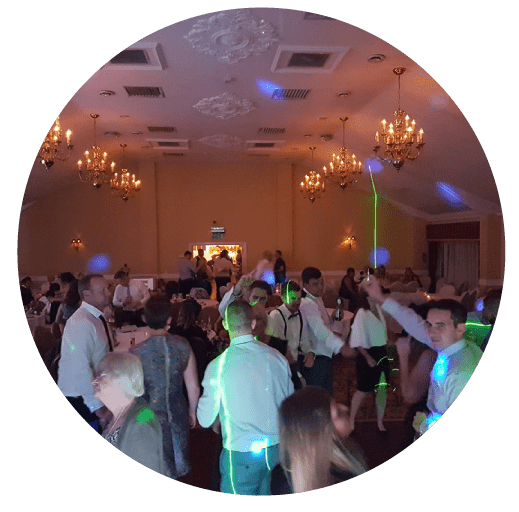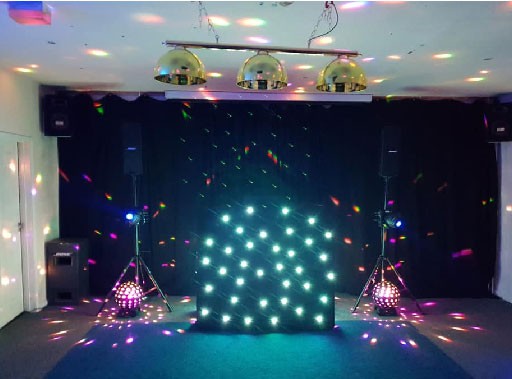 Customisable
starlit DJ Booth
Our DJ booths come with three different cloth covers, which you can choose according to your wedding theme:
• Black
• White
• Rustic
The booths are also illuminated with LED lights, creating a starlit effect. These lights also come in a variety of colours.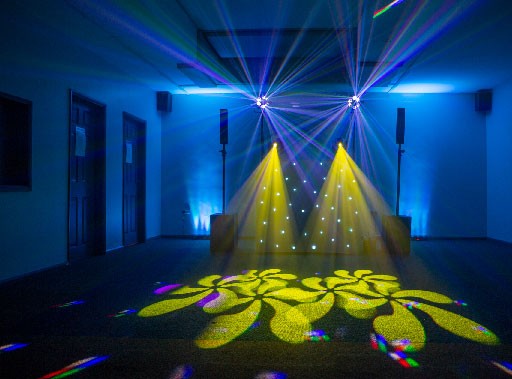 Take advantage of our stylish DJ lighting effects. You'll have:
• Two "moonflower" patterned lighting setups
to cast razor beams of coloured light across
the room.
• Moving spotlights mounted on the DJ booth.
• Moving spotlights mounted on black, white,
or rustic covered and illuminated podiums.
Our moving spotlights can also project a heart pattern onto the dance floor.
All our DJ lighting effects come in a variety of colours and customisable options.
Note: please be aware that these may not be suitable to anyone who is sensitive to strobe light effects.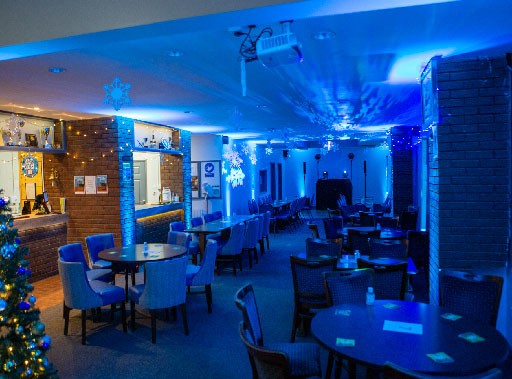 Venue mood and
up lightning
Take advantage of our venue mood and up lighting options. We have a range of customisable colours and options to choose from, and you can have up to twelve lighting effects.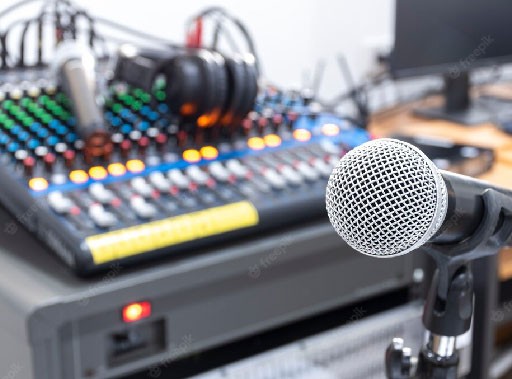 All our DJ booths come with a wireless microphone synced to the main setup. This can be used for wedding speeches and more.
Online event and music database
All our DJ packages include access to our online event planner, where you can view your events details and create music playlists.
At JTS Events, we provide high-quality products and outstanding service. But don't just take our word for it; see what our customers have to say!
Holiday Inn Corby - Kettering A43
We had Nick DJ at our wedding in 2016. Everything went amazing and we were more than happy with the service that we had. Nick was professional, accommodating and had the dance floor full with his fantastic and varied music. We would recommend Nick for your function- 5 stars from us 🙂
Lee & Emma Bell
Holiday Inn – Peterborough west
I would like to say a massive thank you to Nick and the team for saving my big day at the last minute after being let down a week before my wedding.
Your service was absolutely fantastic you made my guest and everyone else feel welcome you was very helpful too thank you for such a great experience and for the beautiful book afterwards defo will be booking again in the near future for birthdays and other events with you 10 out of 10 for your service
Stephen & Claire Reay
West Glebe Park Pavilion
They were very professional, friendly and helpful. They couldn't do more to help me leading up to and on the night. They were very polite to all of our guests. I would recommend them to everyone! A very good price too.
Thank you so much!
Erin Pryce
Grampian Club Corby
We hired JTS Events for their magic mirror for our wedding reception, Nick was professional, on time and couldn't help enough as it was during covid, everyone enjoyed the magic mirror and we got a photo album with everyone's photos in and a USB stick with all photos on, I would highly recommend JTS events and will definitely be using them again, thank you
Lindsay & Heath
Grampian Club Corby
Nick came and did my daughters 30th birthday party, we had the magic mirror, such great fun, very professional took care of all of the guests even the children. The personalised album was fantastic... I would highly recommend them.
Muriel Sims
Great Oakley Cricket Club
We used JTS Events to provide music entertainment and assist with the planning of our wedding reception. Nick was absolutely fantastic from start to finish. He went above and beyond to make sure our special day went as smoothly as possible. Nick assisted with all of the organising of the venue and took time out of his busy schedule to decorate the venue for us before our special day. He then worked non stop all day along with the staff at the venue to make sure all the guests were happy.
If you are looking for a DJ or an Events Planner for a party or wedding, then look no further and contact Nick at JTS Events.
Luke & Nicole Hall
Are you ready to create long-lasting memories? Get in touch with us using the form below and we will make your event sparkle.